Acuerdos cy près en acciones de clase sobre privacidad
Thomas E. Kadri

Universidad de Georgia

Ignacio N. Cofone

Universidad McGill
Palabras clave:
acuerdos cy près, acciones de clase sobre privacidad, mecanismo procesal, compensación indirecta
Resumen
Este ensayo analiza el potencial del uso de los acuerdos cy près en las acciones de clase sobre privacidad. Estos acuerdos son un mecanismo procesal para superar los problemas de distribución en las acciones de clase. Cuando resulta demasiado oneroso probar los reclamos individuales o demasiado costoso distribuir los daños y perjuicios a los damnificados, los tribunales en ocasiones otorgan la compensación a una organización benéfica o sin fines de lucro involucrada en un trabajo que sirve a los intereses de los damnificados. Estos controvertidos acuerdos han ido ganando terreno en varios sistemas jurídicos. La Suprema Corte de los Estados Unidos examinó recientemente su idoneidad en el caso Frank v. Gaos, mientras que los tribunales de Canadá y de varios países latinoamericanos también han experimentado con los cy près. El ensayo utiliza estos casos para evaluar cómo este mecanismo procesal puede ser particularmente útil en las acciones de clase sobre privacidad. Aunque los acuerdos cy près requieren una supervisión judicial adecuada para evitar abusos, el capítulo concluye que pueden ayudar a evitar la invasión a la privacidad, a hacer cumplir las leyes en material de privacidad y a proporcionar a los demandantes alguna medida de compensación indirecta cuando se vulneran esas leyes.
Descargas
La descarga de datos todavía no está disponible.
Citas
Ben-Shahar, O. y Porat, A. (2018). The Restoration Remedy in Private Law. Columbia Law Review, 118, 1901-1952.
Berryman, J. y Carroll, R. (2013). Cy-Pres as a Class Action Remedy—Justly Maligned or Just Misunderstood? En Barker, K. y Jensen, D. (eds.), Private Law: Key Encounters with Public Law (pp. 320-365). Cambridge University Press.
Cofone, I. N. (2019). Nothing to Hide, but Something to Lose. University of Toronto Law Journal, 70, 64-90.
Cofone, I. N. (ed.). (2020). Class Actions in Privacy Law. Routledge.
Cofone, I. N. y Robertson, A. Z. (2018). Privacy Harms. Hastings Law Journal, 69(4), 1039-1099.
Cohen, A. A. (2019). Settling Cy Pres Settlements: Analyzing the Use of Cy Pres Class Action Settlements. The Georgetown Journal of Legal Ethics, 32, 451-468.
Draba, R. E. (2004). Motorsports Merchandise: A Cy Pres Distribution Not Quite 'as Near as Possible'. Loyola Consumer Law Review, 16(2), 121-157.
Federal Trade Commission. (enero de 2020). Equifax Data Breach Settlement. www.ftc.gov/enforcement/cases-proceedings/refunds/equifax-data-breach-settlement.
Goodlander, J. (2015). Cy Pres Settlements: Problems Associated with the Judiciary's Role and Suggested Solutions. Boston College Law Review, 56(2), 733-765.
Hillebrand, G. y Torrence, D. (1988). Claims Procedures in Large Consumer Class Actions and Equitable Distribution of Benefits. Santa Clara Law Review, 28(4), 747-773
Johnston, J. (2013). Cy Pres Comme Possible to anything is Possible: How Cy Pres Creates Improper Incentives in Class Action Settlements. The Journal of Law, Economics & Policy, 9, 277-303.
Jois, G. U. (2008). The Cy Pres Problem and the Role of Damages in Tort Law. Virginia Journal of Social Policy & the Law, 16, 258.
Jukier, R. (2015). The Impact of Legal Traditions on Quebec Procedural Law: Lessons from Quebec's New Code of Civil Procedure. The Canadian Bar Review, 93(1), 211-250.
Jukier, R. (2018). Canada's Legal Traditions: Sources of Unification, Diversification, or Inspiration? Journal of Civil Law Studies, 11(1), 75-104.
Jutras, D. (2009). Cartographie de la Mixité: La Common Law et la Complétude du Droit Civil au Québec. La Revue du Barreau Canadien, 88, 247-273.
Jutras, D. (2015). Alternative Compensation Schemes from a Comparative Perspective. En Bussani, M. y Sebok, A. J. (eds.), Comparative Tort Law: Global Perspectives (pp. 151-170). Edward Elgar Publishing.
Kalajdzic, J. (2013). The 'Illusion of Compensation': Cy Pres Distributions in Canadian Class Actions. The Canadian Bar Review, 92(2), 173-209.
Krueger, G. G. y Serotta, J. A. (2 de junio de 2008). Money for Nothing. Legal Times.
Lewis, K. M. (2019). UPDATE: Is Cy Pres A-OK? Supreme Court to Consider When Class Action Settlements Can Pay a Charity Instead of Class Members. En Congressional Research Service. https://fas.org/sgp/crs/misc/LSB10131.pdf.
Liptak, A. (26 de noviembre de 2007). Doling Out Other People's Money. The New York Times. https://www.nytimes.com/2007/11/26/washington/26bar.html.
Ormerod, P. C. (2019). A Private Enforcement Remedy for Information Misuse. Boston College Law Review, 60(7), 1893-1948.
Piché, C. (2018). Class Action Value. Theoretical Inquiries in Law, 19(1), 261-302.
Piché, C. y Saumier, G. (2018). Consumer Collective Redress in Canada. Japanese Yearbook of International Law, (61), 231-259.
Pomerantz, A. L. (1969). New Developments in Class Actions – Has Their Death Knell Been Sounded. Bus Lawyer, 25(3), 1259-1262.
Redish, M. H., Julian, P. y Zyontz, S. (2010). Cy Pres Relief and the Pathologies of the Modern Class Action: A Normative and Empirical Analysis. Florida Law Review, (62), 617-666.
Rodríguez Diez, J. E. y Zavala Achurra, M. E. (2019). Restitución e Indemnización a Sujetos Indeterminados, Cy-Près y Acciones de Clase. Revista Estudios Socio-Jurídicos, 21(1), 151-176.
Rotenberg, M. y Jacobs, D. (2016). Enforcing Privacy Rights: Class Action Litigation and the Challenge of Cy Pres. En Wright, D. y De Hert, P. (eds.), Enforcing Privacy: Regulatory, Legal and Technological Approaches (pp. 307-333). Springer.
Shepherd, S. R. (1972). Damage Distribution in Class Actions: The Cy Pres Remedy. Chicago Law Review, (39), 448-465.
Shiel, C. C. (2015). A New Generation of Class Action Cy Pres Remedies: Lessons from Washington State. Washington Law Review, 90(2), 943-991.
Slobom, M. J. (2018). Recalibrating Cy Pres Settlements to Restore the Equilibrium. Dickinson Law Review, 123(1), 281-306.
Trivisonno, C. (2016). Developing a Consistent Approach to Balance Distributions in Quebec. The Canadian Class Action Review, 11(2), 321-338.
Walker, J. (2018). Class Actions in Canada: Cases, Notes and Materials (2a ed.). Emond Publishing.
Yospe, S. (2009). Cy Pres Distributions in Class Action Settlements. Columbia Business Law Review, 2009(3), 1014-1064.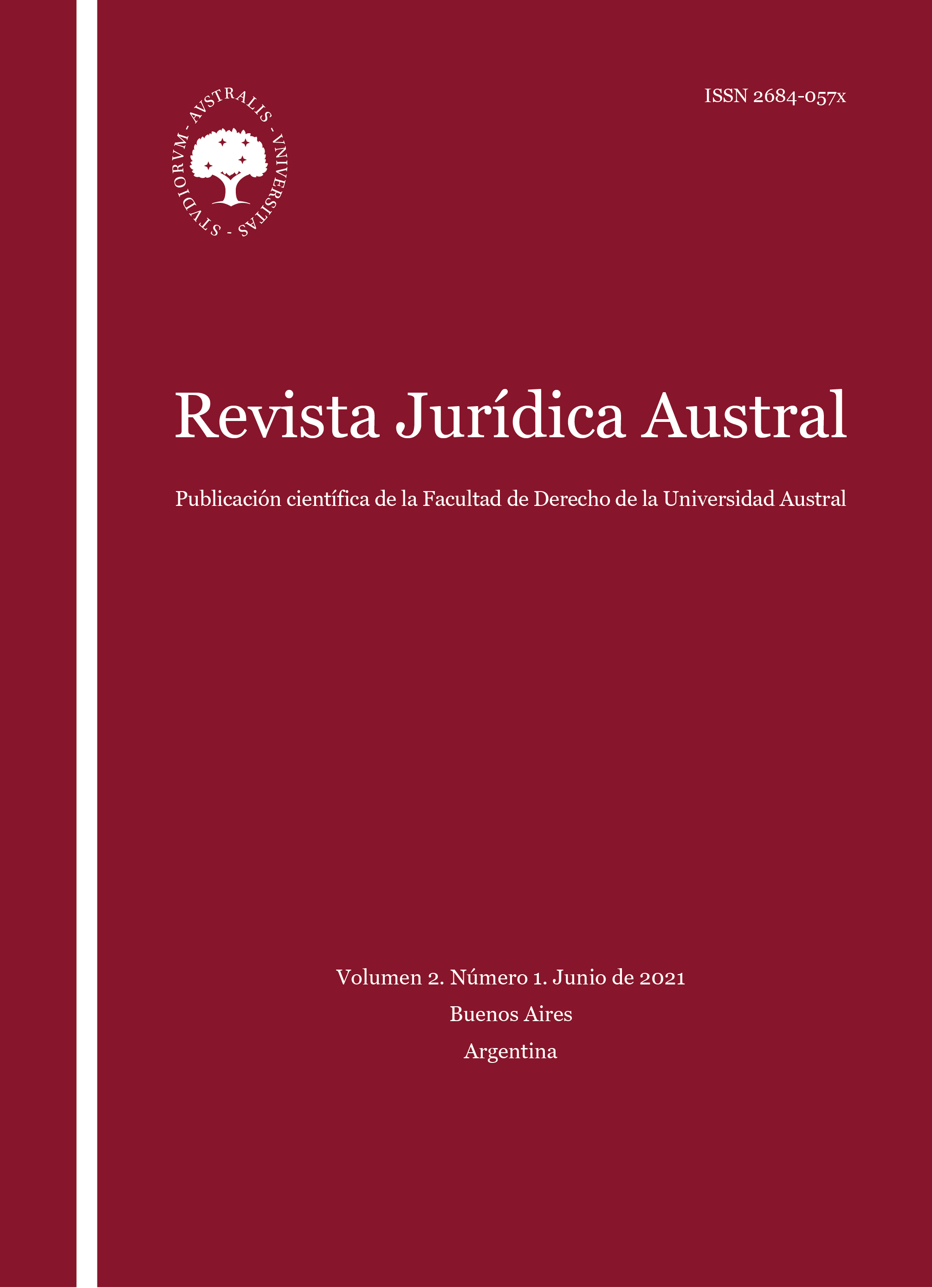 Cómo citar
Kadri, T. E., & Cofone, I. N. (2021). Acuerdos cy près en acciones de clase sobre privacidad. Revista Jurídica Austral, 2(1), 33-50. https://doi.org/10.26422/RJA.2021.0201.kad
Derechos de autor 2021 Thomas E. Kadri, Ignacio N. Cofone
Esta obra está bajo licencia internacional
Creative Commons Reconocimiento-NoComercial-SinObrasDerivadas 4.0
.
Esta licencia permite copiar, distribuir, exhibir y representar la obra siempre y cuando se reconozca la autoría y se cite la obra de la forma adecuada. No se permite el uso comercial de la obra original ni la generación de obras derivadas.
Los autores garantizan a la Revista Jurídica Austral el derecho de ser la primera publicación del trabajo.